Happy Meowmie's Day!

The Purr Scouts of CLAW wish ALL Purr Scout
Meowmies a furry Happy Meowmie's Day!
Happy Meowmie's Day, I love mew!
Happy Birthday too!
PS Jenny
Don't furget to join us fur a
Meowmie's Day chat
at the CLAW chat room
May 14th, 2000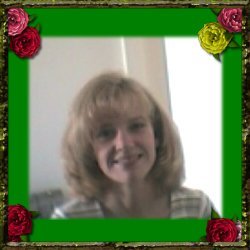 We love mew Meowmie! Happy Meowmie's Day!
Love,
PS Ping, Pong and Sugar
~My Meowmie~
I luff my meowmie, she pampers me to da max.
Anyting I want or need, I don't efen havf to ask!
She rescued me frum da wild place when I was small, helpless & alone.
Gavf me luff, food, shelter & toys, It's sure a wonderfur home!
Meowmie efen lets me be in CLAW where I've met manie great furriends.
So manie activities to participate in, the fun nevfur ends!
I has a wonderfur meowmie, Da bestest in da state.
I wouldn't trade da meowmie & home I've found for anyting,
dis is just too great!!!!!
~by Purr Scout Pepe~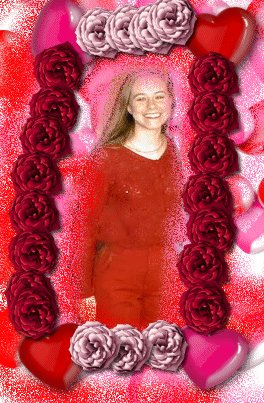 I love mew Meowmie! Happy Meowmie's Day!
Love,
PS Leader Rhett Kincaid Butler
Meowmie
All day I play outside
Running through the grass
Watching butterflies flutter
Their vibrant wings of silk
I run up a tree
And sniff the air
I hear the birds chatter
And feed their young
After my long day
I run inside
And see my meowmie
Who waited all day
By- PS Tred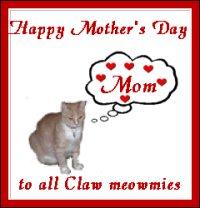 by PS Leo Curry
Meowmie!
My meowmie is furry special to me
She provides me with all that I need
A loving home and plenty to eat
And quite often a yummy treat,
She loves to cuddle and pet me endlessly
And so I must wiggle free
For what I want, I simply meow
Meowmie, get me some tuna now!
by PS Sassy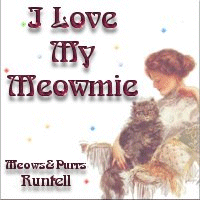 by PS Runtell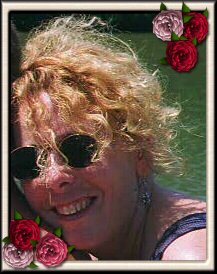 We love mew Meowmie! Happy Meowmie's Day!
Love,
The Kitty Tribe Purr Scouts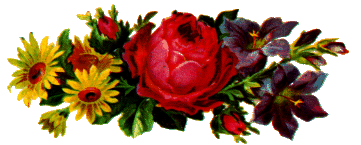 We love mew Meowmie-in-Law Beth!
Happy Meowmie's Day!
Love,
PS Leaders Sensi and Ivy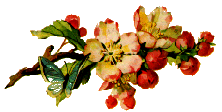 We love mew Meowmie-in-Law Stephanie!
Happy Meowmie's Day!
Love,
PS Leader Cosmo and Angel Frankie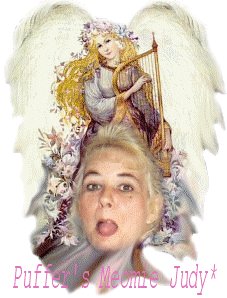 I finkz my meomie is a Angelz,
She alwayz noz my needz,
she luffz me day and nitez,
and alwayz feedz me rightz.
hehe Puffer* who luffz his meomie*
Happy Mufferz Day from the LuvKittys and PS Puffer*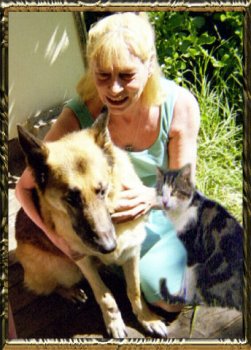 Meowmie!
What words can we use to express
The love we feel for her,
In good times or times of stress
She is always there.
She plays with us and feeds us,
And never makes a fuss
When sometimes we do something bad
That would make others mad.
Protected by her loving care
She keeps us safe
From those who do not share
The same deep abiding love.
Everyday is Mothers day
She is always special
But on the day it's great to say
WE LOVE MEW MEOWMIE VERY MUCH!
by PS Buddha Gill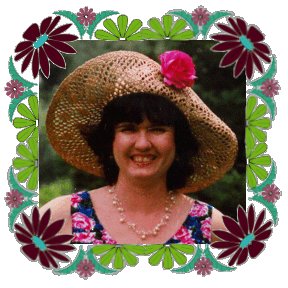 I love mew Meowmie! Happy Meowmie's Day!
Love,
PS Sunshine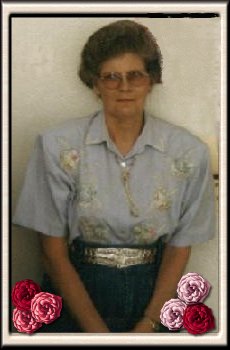 WE tink, our meowmie Anne, is the best meowmie.....
Not only does she love and take good care of us
She always has love and food
fur all the little, stray kitties who havf no home!!!!!
She has been doing this wif stray kitties fur many years...
She has enuf love fur all of us...
and makes each of the stray kitties feel loved and special!
When possible.. avfur the stray kittens are ready fur a human family..
she then tries to locate a family fur them...
so they can be placed in a loving home!!!
Yes... we tink our meowmie is pretty special..
and want to honor her on her daz!!!!!
Purries
PS Calli, Missy and Kiki Stanley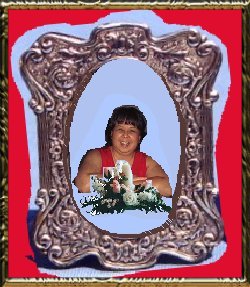 We love mew Meowmie! Happy Meowmie's Day!
Love,
The Milliken Purr Scouts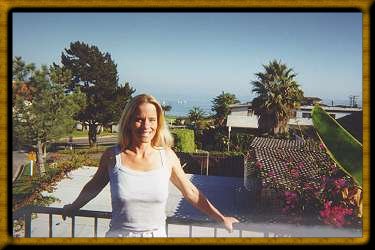 I thank Bastet every day for giving me a human
who cares for all the homless and forgotten.
My brofurs and sisfurs are alive today
thanks to the kind and gentle heart of our human.
Thank you for caring enough to give us a chance
when the rest of the world would not.
Love,
PS Ren,Willie, Stimpy,Felix, Lucky, Boo, Pookie,Abby,
and all the rest
Meowmie!
I Love my meowmie furry much,
she rescured me from a cement plant
when I was only 5 weeks old.
She makes sure I have food, water, a warm & cozy home,
and a furry nice sisfer Mitzi.
Love,
PS Toby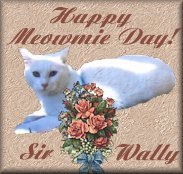 My Meowmie
I was a stray kitty, found on the streets,
so my real mom is not known but my present meowmie
loves me very much and is very good to me.
She feeds me really good (I have gained a bit of ...er...weight)
and I have my own covered outdoor cat castle.
I also spend time inside the house too!
She got me two siblings to keep me company
and lets me have quite a bit of computer time
to run my own CLAW Society.
I consider myself a lucky white cat!
Love,
PS Sir Wally
Happy Meowmie's Day!